A Diverse Fiddler On The Roof



Atlanta Jewish Times, 21 February, 2003
by Robert J. Nebel

On a typical afternoon at Riverwood High School, throngs of students make their daily exodus from campus. In the auditorium, drama teacher Molly Misseri and her group of student actors sit scattered about on the main stage and chant about working together in unison. This "ritual" is part of their rehearsal for the school's upcoming performance of Fiddler on the Roof.

What sets this production of 'Fiddler' apart from other performances of this classic story of dairyman Tevye and his aspirations to preserve his family's traditions in 1905 Russia, is Ms. Misseri's diverse cast and crew. The 29-year-old Misseri, did not have to search hard to find diversity. Riverwood High School is unique in its social and racial makeup. According to its website, Riverwood High School is home to an International Studies magnet program that, "has students from 47 different lands." Riverwood is the only public school in Fulton County to offer Hebrew as a foreign language.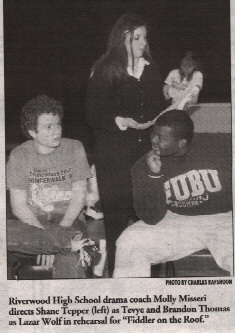 From a native Venezuelan to a South Korean, African-American to Caucasian, freshman to sophomore, non-Jewish person to Jewish person, members of Riverwood's production of 'Fiddler' come away from this experience that will impact them for years to come.

"We are a big family," said sophomore Kent Levinson, who is playing the part of the Rabbi. "We get to learn about each other's cultures. There are Jews, Buddhists and Atheists. Everything!" Rosi Mosca-Herrera, a junior from Venezuela has found that playing the prominent role of Golda has opened her eyes to a world in which she had little knowledge. "I come from a country that is 99% Catholic. You are not exposed to a lot of diversity," she said. "In this musical, you get the opportunity to research a culture that is rich and interesting to me."

Why Fiddler?

Teacher Molly Misseri first saw Fiddler on the Roof when a college friend performed the role of Mendel one summer. "It gives the sense of community and an opportunity to increase the understanding of diversity for the cast and its audience," she said.

While both the play and film version are older than Ms. Misseri and her production company, its message resonates with all of them including freshman Eric Santos, who is from Brazil. Santos, who plays one of the villagers, viewed the 1971 film in one of Ms. Misseri's rehearsals and was inspired by the aspect of a big Russian family and music.

"I never heard of 'Fiddler'," said senior Charles Bryant, an African-American who plays Constable. "I didn't think I would get a part in the play because of that. After seeing the movie, I really go into it." Bryant only wishes he could have participated in earlier productions of 'Fiddler'.

Shane Tepper, who grew up in a Jewish household with countless viewings of the musical and movie, plays the lead role of Tevye. "I have found out that I have a lot in common with Tevye," Tepper said. "Tevye likes tradition and perhaps I do as well."

As opening night draws near, many in the cast and crew point out that their rehearsals are abundant. "We do have a lot of them," said assistant stage manager Samantha Korotkin, a senior. "I did find it interesting that this is a Jewish musical and rehearsals can run late on Shabbat," senior Rachel Solomon joked. "I said, 'Hey I need to get home for Shabbat dinner!'"

Solomon and everyone in the production agree: Practice Makes Perfect.

Getting it right is also important to drama coach Laura Labovitz, who teaches the cast all of the Jewish and Russian references and pronunciations in the script. "I knew everything about the play," said Labovitz, a freshman. "I really love being the dramaturge (coach)/historian and teaching all of the non-Jewish cast members." Even cast members such as Rachel Solomon have helped fellow cast members with their lines in rehearsals. "I'm trying to teach those with no Hebrew education, the 'ch' sound," said Solomon, a senior who is playing one of the villagers.

"I love this atmosphere and the people," said junior Brandon Thomas, a football player who traded in his pigskin for the stage this season. Thomas, an African-American who joined the 'Fiddler' cast last year, wanted to become a part of something where people come together. Thomas feels that 'Fiddler' brings that cohesive feeling to the community. "This is a great play," said Thomas. "I can't wait for February 23rd!"

(C)2003 The Atlanta Jewish Times

Back to the published page

Back to the homepage

Riverwood High School